DESIGNED FOR MICROSOFT BUSINESS INTELLIGENCE SOLUTIONS
Data intelligence

for smart organizations
With all of your data sources connected in one place, you'll get a bird's eye view of your data estate along with the detail needed to build trust and confidence in your data across the organization. Empower decision makers with good data.
Enhance governance
Democratization of data means putting a new lens on data governance. Understand where data may be exposed, improve regulatory compliance and mitigate risk as your workforce changes and you transform digitally.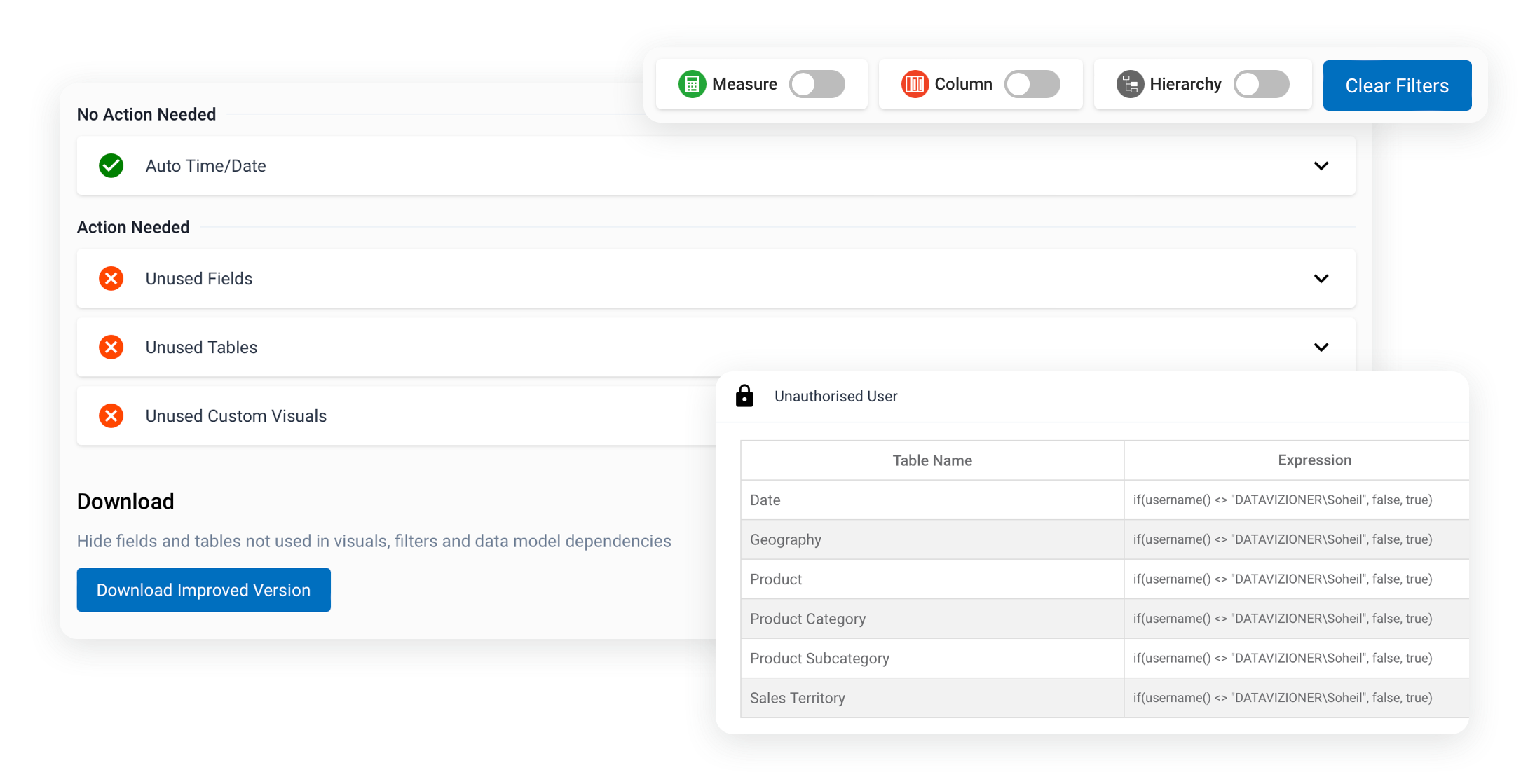 See where data is coming from and how it is being used to get insights into gaps and opportunities.
Standardise datasets and reports prepared internally and externally to manage risk and reduce cost.
Make everyone in your team a high performer. With a single click download an improved version.
Improve row level security with insights into accessibility by role, and quickly check expressions.
SEE IT IN ACTION
Everything you need to know about Data Vizioner in less than 10 minutes! Have questions? We're ready to help.
Accelerate analysis
Data is increasingly complex. From impact analysis to migrations and review processes, you need to be able to diagnose problems fast, optimize your model and reduce the risk of costly mistakes before they happen.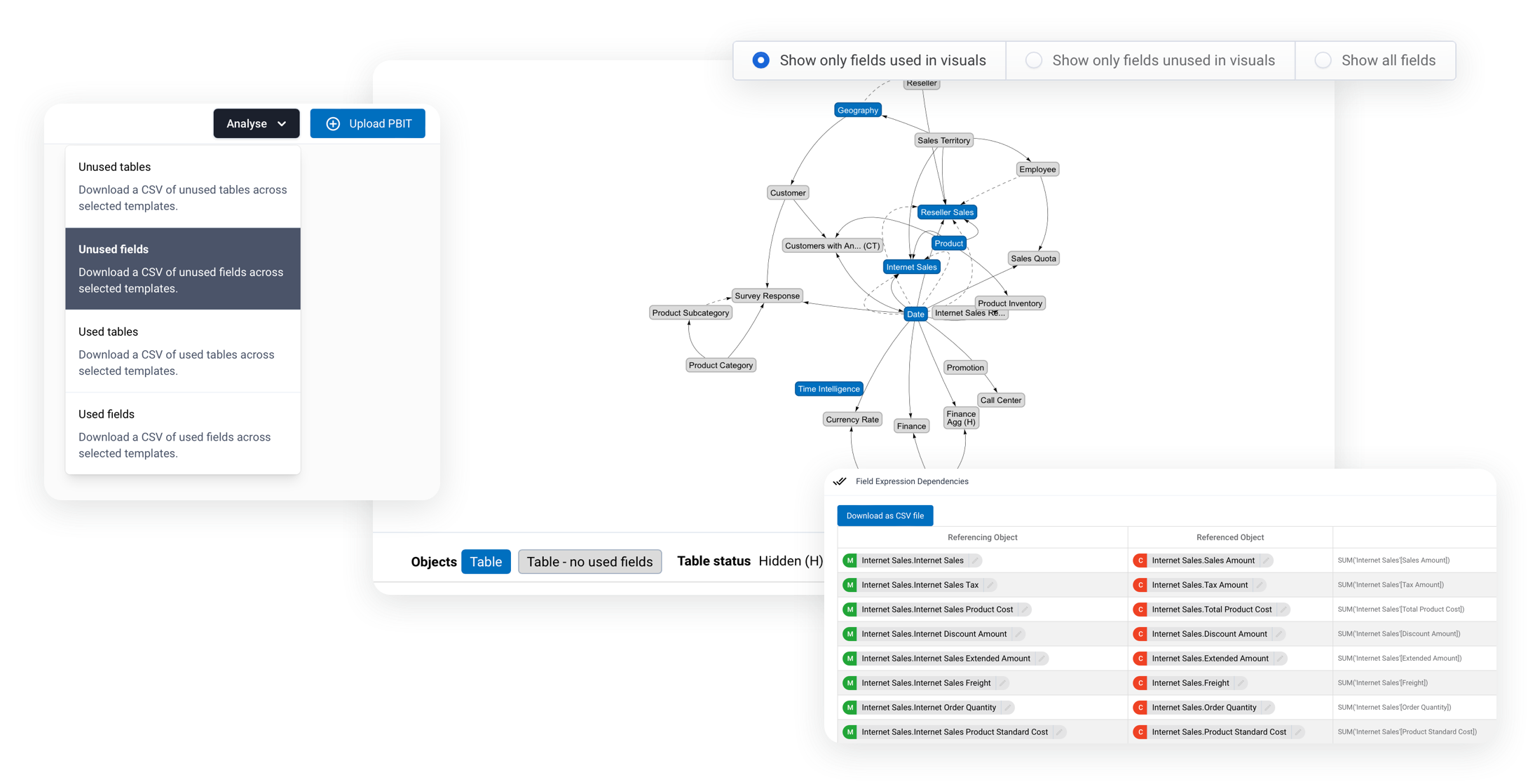 See how your report is constructed and filter pages and visuals by measures, columns and hierarchies.
At a glance see active and inactive table relationships, as well as cardinality and storage mode.
View field expression dependancies visually, and explore table and role expression dependancies.
Easily see how DAX expressions are used throughout your model to spot and resolve issues fast.
Put Power Query in focus. Compare, copy and download to improve data automation speed and accuracy.
Get visibility of used and unused tables and fields to better understand your dataset.
Act on insights around your data set to remove unused tables and fields to improve performance.
Combine reports and datasets for raw insights into relationships with fast CSV exports.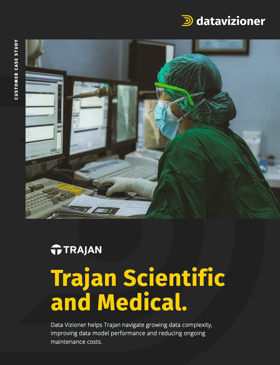 CASE STUDY
Trajan Scientific and Medical
Find out how Trajan Scientific and Medical navigated growing data complexity, improving data model performance and reducing ongoing maintenance costs with the Data Vizioner data intelligence platform.
Automate documentation
Capturing contextual knowledge is essential to increasing reporting standards, productivity and accessibility across your organization. Create documentation in minutes, not weeks.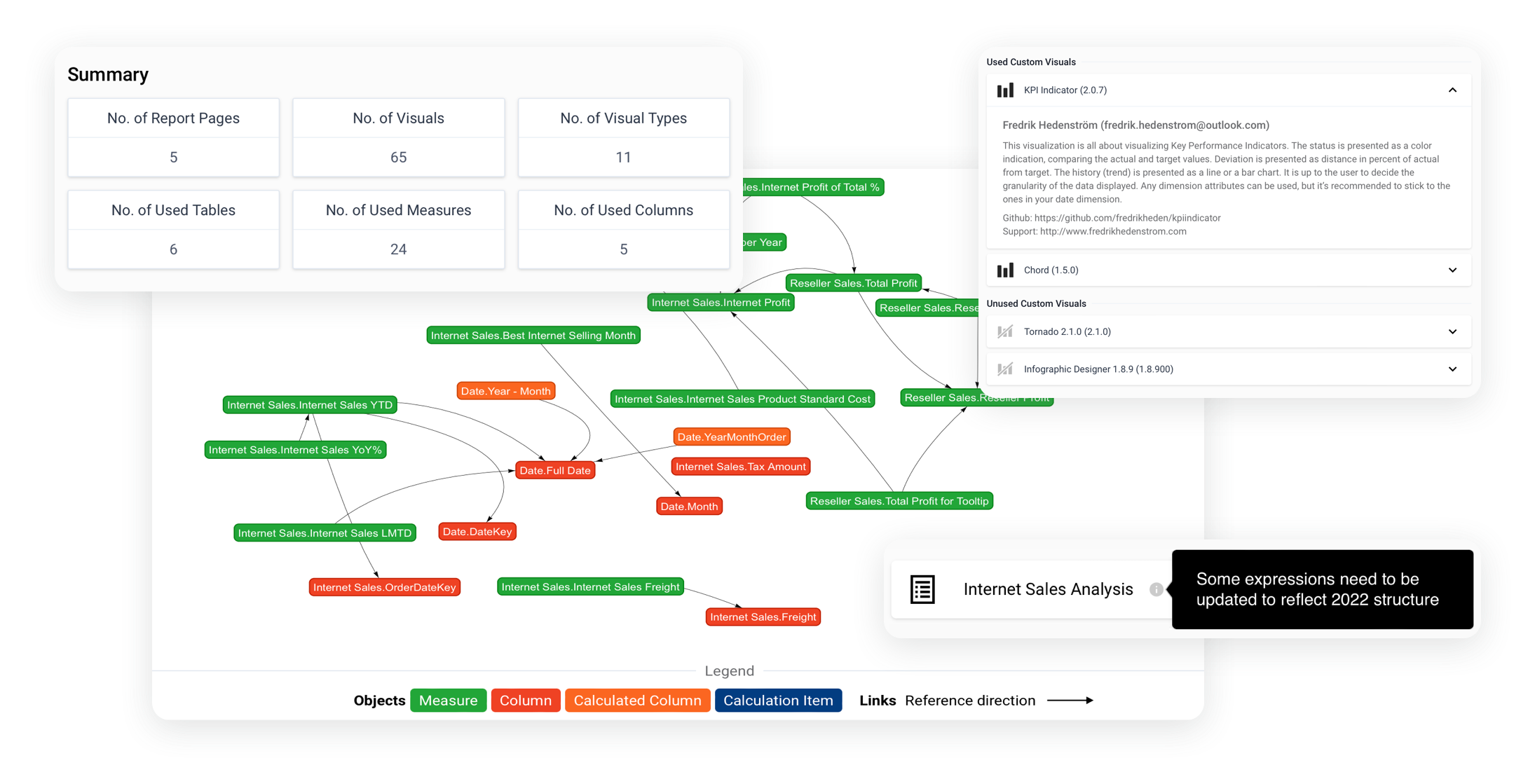 Add descriptions anywhere
Go beyond Power BI's built-in descriptions, with the ability to add narrations to visuals, fields, pages and much more. Use these for inline documentation, or as the foundation for more traditional documentation.
Whether you're creating documentation in Word, Confluence or somewhere else - easily screenshot and capture key details to help explain how your reports and datasets function.
Activate your 7-day trial
Simply create an account and invite your team to get started, or book a time to talk.